Past Projects
Our Partnership With Boy Scout Troop 121 of Santa Rosa
The Project:
The Valley Fire in Lake County happened in September 2015, it may be in some peoples distant memory, but for many they are still picking up the pieces and trying to move on. When Erik and I heard about the fire and all the devastation it caused, we collected private donations of necessities, but we thought what could we do as a company?
When we saw the Middletown sign on fire on the news, we thought- hey we could replace that! And so began our journey, which lead to us meeting and having the honor to mentor a fine group of boys from Boy Scout Troop 121 of Santa Rosa, led by Jordan Gurries.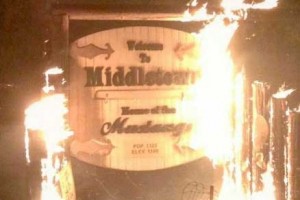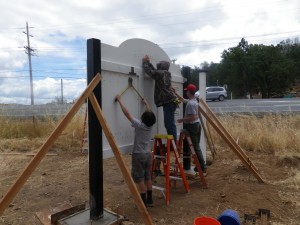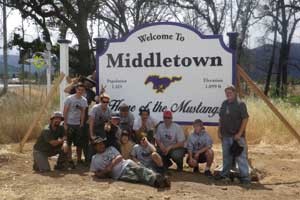 The Solution:
We contacted the Middletown Rotary to express interest in our donation of a sign to the town, they said a young man from Santa Rosa had wanted to do the same for his Eagle Scout project and would we be willing to partner with him to make a new sign a reality. We agreed and 7 months later we were able to make this sign a reality for the people of Middletown.
We worked with Jordan on the design and refined it until the Middletown Rotary signed off on the artwork, then we worked together to secure material and financial donations.
The Results:
On May 1st, the troop came together to start advance construction of the sign which included building a frame and attaching the substrate, cutting out the sign's shape, painting posts etc. On May 21st the troop installed the sign with Jordan leading the project with Erik overseeing the install. The sign features black acrylic dimensional lettering, vinyl graphics, and a acrylic dimensional horse-Go Middletown Mustangs!
We have been so pleased to be a part of this project and the feedback we have received has been so positive! We hope this sign helps continue the healing process that is and will still be occurring for some time to come and we sincerely hope this sign helps aid in that process.
Thank You To The Following Individuals & Businesses Who Generously Underwrote This Entire Project!
Charley Carpenter, Rick & Laurie Gurries, Kevin Moore and Richard Thomas Sr.
N. Glantz and Sons Signs Supply of Sacramento: https://www.nglantz.com/
Jim Sackman Focal Point Business Coaching of Santa Rosa:  http://norcalbusinesscoaching.com/coach/jimsackman/
Aaction Rents of Healdsburg: http://aactionrents.com/
Barnes Lumber of Cloverdale: http://lumberyardcloverdale.com/
Cloverdale Mini Storage: 35 Industrial Dr, Cloverdale, CA · (707) 894-3682
Hardester's Market of Middletown: http://hardestersmarkets.com/
Layne Paving & Trucking: 3700 Old Highway 53, Clearlake, CA · (707) 994-6324
Ray's Custom Wood Working: http://www.rayscustomwoodworking.com/
Pacific States Environmental Contractors, Inc.: http://pacificstates.net/
Sonoma County Gazette: http://sonomacountygazette.com

If you are interested in bettering your community through professionally designed signs and print design, please email us or call 707.887.1303. We accept a small number of projects requests per quarter that we will donated our time to and/or provide discounted design, fabrication, and installation services to.